2020 Range Rover Sport Blends its Premium Style with Legitimate Capability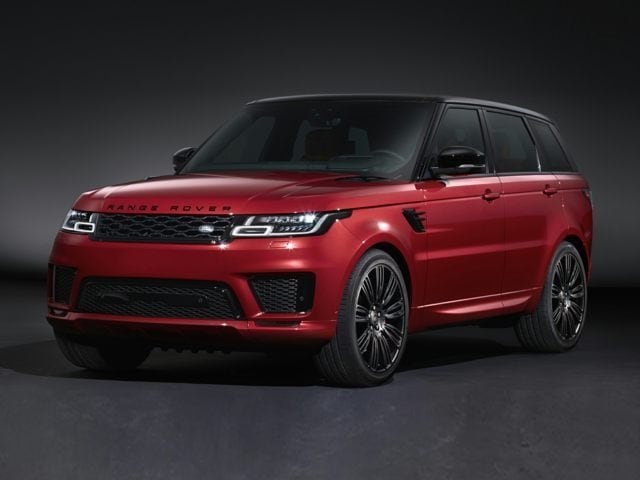 Bred from a lineage of classic off-road vehicles, the 2020 Range Rover Sport maintains its status as a premier luxury SUV with world-beating performance.
Design
From sheet metal to upholstery, Land Rover designers took their time to make sure the 2020 Range Rover Sport beautiful, comfortable, and practical. Inside and out, the Range Rover Sport surpasses the expectations of luxury drivers around Troy and Birmingham.
Exterior Styling
From the outside, the Range Rover Sport appears much like its larger companion. It borrows styling cues from the Range Rover but uses slimmer proportions and sleeker lines to create athletic look. Premium paint colors, black trim accents, large spoked wheels, LED head lights and tail lamps, and more bring the picture together.
Interior Features
Turn your attention to the cabin and you'll find an exceptionally well-equipped space. Every detail has been designed to reflect luxury and quality, from stitched and perforated leather seats to a huge panoramic sunroof.Outside of these luxury features, the Range Rover Sport is also exceptionally practical. It manages to fit three rows of seats in its cabin, allowing for up to seven passengers. Those seats are flexible as well -- the two rear rows can fold in different configurations to accommodate different kinds of cargo. With the two rear seats folded down, the Range Rover Sport has 27.5 cubic feet of cargo space. Fold down just one more seat in the middle row and you've got 40.7 cubic feet to work with. With all but one rear seat folded down, you'll have 46.4 cubic feet. Finally, folding down all of the rear seats opens up 59.5 cubic feet of cargo space.
Performance
The 2020 Range Rover Sport's performance is just as potent as its features are luxurious. From powerful engines to all-terrain excellence, this premium SUV covers all the bases.
Engine Options
A wide range of engines is available in the new 2020 model. Each has its strong points, but all are worthy of your attention.
If it's torque that you want, you'll love the available 3.0-liter diesel V6. This powerplant offers a respectable 254 horsepower, but truly shines with its maximum 443 pound-feet of torque achieved at just 1,500 rpm. You can also choose the available 3.0-liter inline-six engine that produces 355 horsepower and 365 pound-feet of torque. New for the 2020 Range Rover Sport is a 2.0-liter four-cylinder engine with plug-in hybrid technology producing 398 horsepower. Finally, there's the elite supercharged V8 with up to 575 horsepower. With all but the plug-in hybrid powertrain, the Range Rover Sport can tow north of 7,000 pounds.
Off-Road Performance
The new 2020 Range Rover Sport lives up to its heritage with truly impressive all-terrain performance. It's thanks largely to clever engineering and cutting-edge features. This is one luxury vehicle that can handle winter weather around Bloomfield and Royal Oak with ease.
All-Wheel Drive: Power in the Range Rover Sport isn't relegated to just the front or rear axle. Its sophisticated all-wheel drive system means power can move among all four tires to maximize grip. This can be helpful both on and off tarmac.
All-Terrain Progress Control: This feature lets you set a steady pace and forget about it. You can turn your attention to steering and navigation while the Range Rover Sport maintains a consistent speed automatically.
Terrain Response: This system analyzes the current terrain and automatically adjusts engine, transmission, and suspension performance to match it. Terrain Response 2 even includes a Rock Crawl Mode.
Hill Descent Control: If you're navigating a steep grade, this feature can maintain a constant low speed and apply selective, individual braking to each of the four wheels.
Two-Speed Transfer Case: An extra low range can be boon to off-road enthusiasts. The two-speed transfer case in the Range Rover Sport can give you the low-speed torque needed for a variety of scenarios.
Low-Traction Launch: If you're moving from a standstill on a slick surface, this feature can start you off at a spot in the rev range that maximizes torque.
Technology
Technology works in a variety of ways to enhance experiences within the 2020 Range Rover Sport. From performance to safety, these features aim to make the Range Rover one of the most advanced vehicles on the road.
The cabin is full of compelling technology features. The steering wheel itself is the starting point for control over these various functions, with hidden switches helping you navigate through media and more. The central touchscreen display now comes standard with Apple CarPlay and Android Auto for the 2020 model year. Even the rear passengers can stay entertained with available back-seat HD screens.
Outside the cabin, an array of cameras and sensors work together to give the 2020 Range Rover Sport a variety of driver aid functions.
Emergency Braking
Lane Departure Warning
Front and Rear Park Aid
Cruise Control and Speed Limiter
Traffic Sign Recognition
Blind Spot Assist
Etc.