2020 Range Rover Velar: A Sleeker Range Rover with Sharp Performance and Tasteful Aesthetics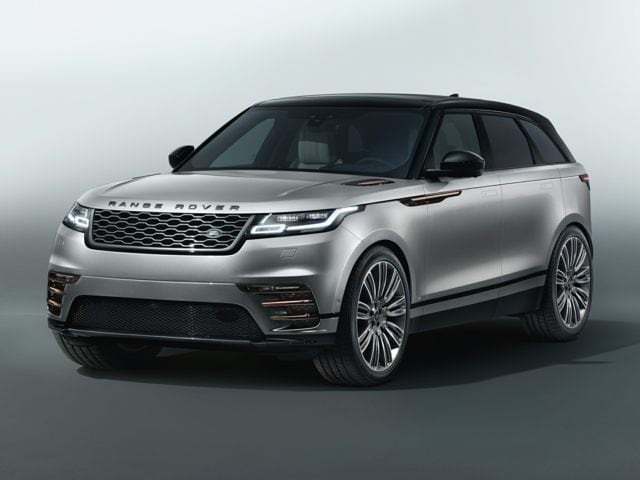 The new 2020 Range Rover Velar picks up where the previous model left off, retaining its elegant styling and potent performance. Its distinctly low-slung styling helps it stand out among similar Range Rover models in the lineup, while its impressive interior rivals anything in the segment. Per expectations, the 2020 Range Rover Velar is available with a gamut of off-road tech and features that provide far more rugged capability than the SUV's sleek looks may imply. All around, the 2020 Range Rover Velar is a model fully deserving of the Land Rover badge.
Schedule A Test Drive Today!
Re-Framing Luxury SUV Design
Styling and features in the Range Rover Velar reflect Land Rover's commitment to premium automotive experiences. From soft-touch surfaces to cutting edge technology, this SUV delivers a cabin space that plays to upscale tastes and expectations.
Materials and Aesthetics
There's no mistaking the premium appeal of the Range Rover Velar. Its interior space is filled with upscale features and materials aimed at pleasing the senses.
To start with, the SUV offers a range of upholstery materials for various cabin surfaces. Wool blends, premium leather, suedecloth, and more give the cabin a unique appearance and soft-touch appeal. The Range Rover Velar provides premium sound, as well. There's a standard Land Rover sound system and a range of available systems from Meridian.
Even temperature settings get the premium treatment. Drivers can choose the standard two-zone automatic climate control system or the available four-zone automatic climate control system. Both are excellent at keeping the cabin space perfectly comfortable.
Technology and Features
Land Rover has leaned into its reputation for immersive automotive technology, and it's evident in the new 2020 Range Rover Velar models.
Infotainment: The 2020 Range Rover Velar offers available Touch Pro Duo. This system offers two distinct touchscreen displays in the center stack, allowing you to have two different applications running simultaneously. The new Range Rover Velar models also offer InControl systems that enhance the overall connectivity of the vehicle with built-in apps, Wi-Fi, and more.
Driver Assistance: New 2020 Range Rover Velar Models offer a broad range of available active safety technology. Emergency Braking, Lane Keep Assist, Park Assist, and other technologies all serve to help make driving an easier and safer activity than ever before.
Driving Dynamics: Technology in the new Ranger Rover Velar can help improve performance as well. You can change the model's performance characteristics on the fly with Configurable Dynamics. The feature lest you choose specific settings for throttle, steering, transmission response, and more. The Range Rover Velar can also adjust performance dynamics on its own with Intelligent Driveline Dynamics. The system monitors road conditions and adjusts torque delivery to compensate for surface variations.
Performance Without Compromise
The 2020 Range Rover Velar is a jack of all trades when it comes to performance. Equally competent during long-distance road trips, back-road cruising, and tough trail challenges, the new model offers excellence in all arenas.
Engine Selection
2.0-Liter Turbocharged Four-Cylinder Engine with 245 Horsepower
3.0-Liter Supercharged V6 Engine with 340 Horsepower
3.0-Liter Supercharged V6 with 380 Horsepower
3.0-Liter Supercharged V8 with 550 Horsepower
Off-Road Aptitude
The 2020 Range Rover Velar keeps the robust collection of features and technologies that help achieve its world-class all-terrain ability. When the path gets challenging, the 2020 Range Rover Velar is truly in its element.
All-Wheel Drive: Rather than conventional front-wheel drive or rear-wheel drive, Range Rover Velar employs an advanced all-wheel drive system. A range of technologies work together to deliver power to all-four wheels both on and off road. Power delivery can vary among different wheels to help maximize grip.
Active Rear Locking Differential: In slick, low-grip scenarios, this feature can lock rear-wheel rotation together. The process occurs automatically, enhancing grip right when you need. This locking rear differential gives the Range Rover Velar an edge over many other all-wheel drive vehicles on the market.
Low Traction Launch: If you're having a hard time advancing from a standstill in a low-grip circumstance, this feature can push all available power to the front wheels. This can help you gain purchase on slick surfaces and get some forward momentum.
Terrain Response: Terrain Response gives drivers different driving modes to choose from. These modes coordinate different settings among the suspension, transmission, differential, and more to best suit the specific conditions.
Electronic Air Suspension: This available feature can automatically adjust your ride height to compensate for road or trail variations. It's equally prepared to deliver both a comfortable ride and exceptional off-road handling.
Hill Descent Control: When you're descending a challenging incline, Hill Descent Control controls throttle and braking to help ensure a safe descent.